Darja Schabad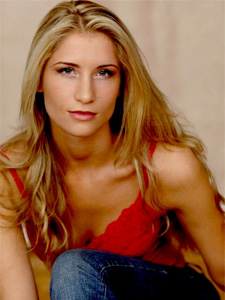 Darja Schabad is a trained actress, singer and dancer living in New York City. She was born in Latvia, grew up in Germany and lived in Spain for five years. Apart from English she speaks three additional languages fluently.
As a former German national champion in Rhythmic Gymnastics, she embarked on a performing arts career very early in her life and discovered her acting talent at the age of twelve, when she was chosen for the Lead of a German feature film. Simultaneously she started receiving private singing and piano lessons, as well as training in modern dance.
As a singer, Darja competed in the popular "PopStars" show in Germany and went through to the last eight candidates, chosen out of a total of 11,000 initial candidates. Post-PopStars she used the popularity of the show as a spring board to launch an independent singing career together with internationally acclaimed producer and song writer, Tony Cutoura. Having appeared in numerous national TV Shows and Newspaper articles praising her talent, Darja has achieved significant success and fame in Germany, before her ambition to receive a University Education lead to a temporary break in her performing arts career.
Darja moved to London to receive her BSc in International Relations from the British Ivy League University, London School of Economics, and went on to work in financial services for Thomson TradeWeb for two years. At Thomson TradeWeb she covered clients in the UK as well as Spain and Portugal, where she managed the client relationship with the world's most successful Financial Institutions.
Her successful career in the world of finance was interrupted by her wish to nourish her other passion – performing arts. Darja moved to New York three years ago, to study acting at the renowned American Academy of Dramatic Arts, and since her graduation she has appeared in films, commercials, industrials and voiceovers, representing companies such as Perkinelmer, Canon, UBS Investment Bank and PUMA, where she is the voice of the current PUMA Perfume global campaign.
In her free time Darja is an ardent reader of classical literature and philosophy, loves to paint, plays the piano, performs as a singer at gallery openings and practices Yoga. Her aspiration is to continue pursuing a successful career that allows her to combine her creativity and love of working with the camera with her interest in the world of finance and international politics.