Laura Williams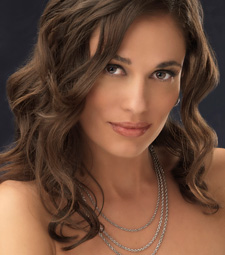 Laura Williams is one of the most photographed book cover models in the world recognized and beloved by millions of romance novel fans. Her literary graces have also been celebrated on Lifetime Network's "Mr. Romance," a Harlequin publishing series featuring Laura as the top female model selected to accompany the "People's Choice" winner.
In addition to her success as a book cover star, Laura is an internationally known Wilhelmina model who has appeared in innumerable print and magazine publications. These include Cosmopolitan, Family Circle, First, Glamour, In Style, Latina, Maxim, Men's Health, Manhattan Bride, Platinum, People, Prevention, Psychology Today, Redbook, Siempre Mujer, Vanidades, Vogue, Women's Day, Women's World and many others. She is also the face of NetCologne in Germany and has appeared in major advertisements and catalogues worldwide.
Laura has starred in television features and fashion segments including CBS Early Show, The Today Show, The View, Regis and Kelly, CBS Morning Show, The Tyra Banks show and Tough Crowd with Colin Quinn. Further, Laura has completed on-air and print commercial campaigns for Braun with Heidi Klum and Clear Eyes with Ben Stein. She has also performed in dozens more TV commercials having aired worldwide in Turkey, Australia, Eastern and Western Europe, South Africa, Canada, the Middle East, South America and the USA.
Laura also has feature film experience working alongside Nicole Kidman in her 2006 movie fur in which she played a 1950's photo model. In the "Devil Wears Prada", Laura was a celebrated cover model of Runway magazine. She was also the television hostess for Miami Beat and the lead actress in two independent full-length movies. Further, Laura was the lead actress in two New York City theater stage productions, "Italian for Funeral" and "Still Life Goes On."
Originally from Alabama, this southern belle moved to Colorado where she won many acting and beauty competitions including the state title of "LMA Teen Model of the Year." As a teenager, Laura moved to New York City where she enrolled in business studies at NYU and completed an intensive program of advanced acting classes at the three of US studios. During this time, Laura also established her professional modeling career.
Other personal interests include the performing arts, philanthropy (Best Buddies for special needs children), travel and international real estate investments owning personal properties and commodities in South Africa, Central and South America and the USA. Laura's career has taken her all over the world including Tokyo, Ecuador, London, Taipei, Munich, Florence, Hamburg, Buenos Aires, Athens, Cape Town, Dubai, the Caribbean and other distant locales. She is represented by world's top modeling agencies and currently resides in New York City.